Product Description
BMC Floor:

1.Convenient and long-durability.

2.Mooth edge protect animal cutting professional design save water, no water waste.

3.It is characterized by high strength and acid and alkali corrosion by pressing the unsaturated resin, low shrinkage and other fiber materials.

4.the surface of the floor has the appearance of the sample, beautiful and generous, the anti-chemical function is significant, the hole distance is so moderate, the pig's milk head and pig's feet do not harm .the whole leakage of excrement design, easy to clean without touching the dung.provide a good environment for pigs.


Springfloor farrowing
Composite farrowingfloor
The Springfloor Far is suitable as traditional farrowing crate but also as a free acces farrowingcrate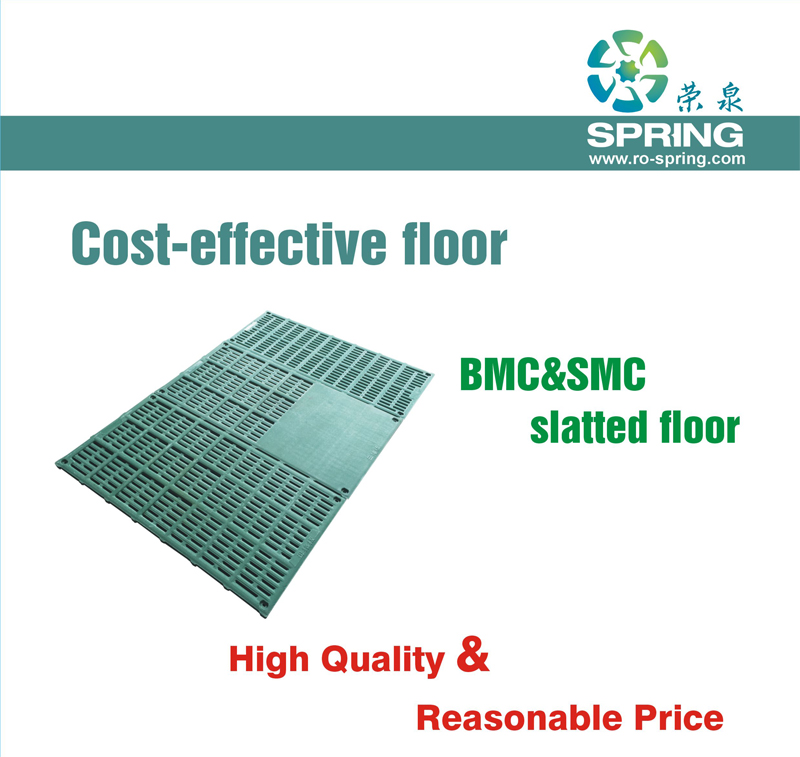 The Springfloor is a composite flooring consisting of mostly natural mineral raw materials.
These raw materials are bonded in an optimal composition with synthetic resin, this creates a very difficult flammable substance which is ideal as a slatted flooring in farrowing and weaner houses for the following reasons:
• Meets the requirements of fire class Bfl-s1;
• Acid resistance;
• Easy to install;
• Optimal animal comfort;
• Maximum grip for suckling piglets;
• Rounded bars of the slat to prevent teat and joint injuries;
• Excellent manure passage;
• Completely liquid tight;
• Dirt repellent and easy to clean;
• Optional available with one ore multiple (heated) piglet nests;
• Excellent attenuation of noise and vibration;
• Constant load of sow possible, therefore suitable for free acces farrowing crate.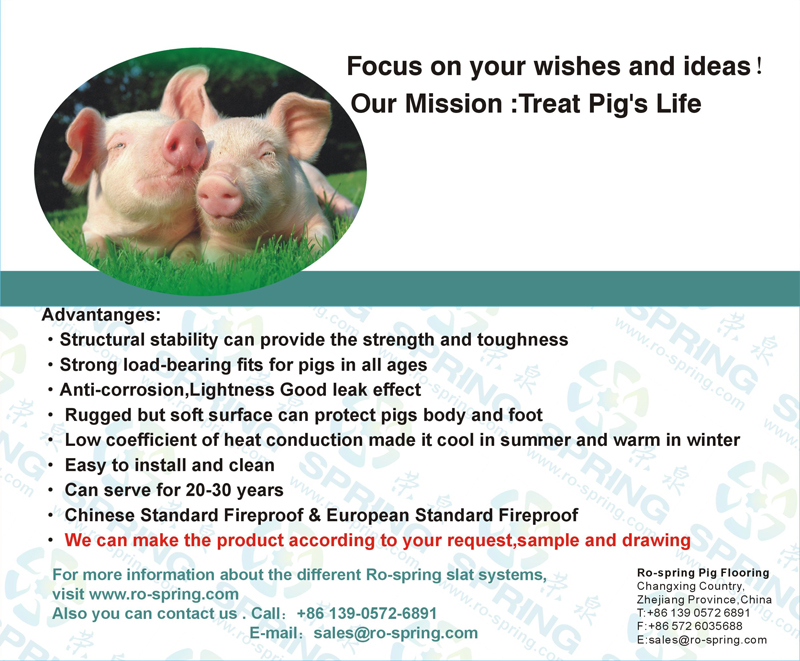 or Wean
Springfloor weanerfloor.
* Meets the requirements of fire class Bfl-s1;Acid resistance;
* Easy to install;
* Optimal animal comfort;
* Maximum grip for piglets;
* Rounded bars of the slat to prevent joint injuries;
* Excellent manure passage;
* Completely liquid tight;
* Dirt repellent and easy to clean;
* Excellent attenuation of noise and vibration