Product Description
Advantage of BMC slat floor:
1.Excellet heat preservation,effectively reducing diarrhea rate and death rate
2.Protecting sows from crushing nipples
3.Obturator material, water repellent,not hiding dirt, reducing disinfection and flushing times
4.Higher strength and strong stability,anti-squat
5.Light and convenient,easy to install,longer lifespan

Advantage of BMC Slatted Flooring material:
1.Direcly forming, not easy to be bent or distorted
2.Higher specific stiffness and strength,but in lighter weight(due to the adoption of longfiber)
3.Strong stability in wet and high temperature environment
4.Recycable,environmentally friendly
5.Hazardous substances free

The Springfloor Far is suitable as traditional farrowing crate but also as a free acces farrowingcrate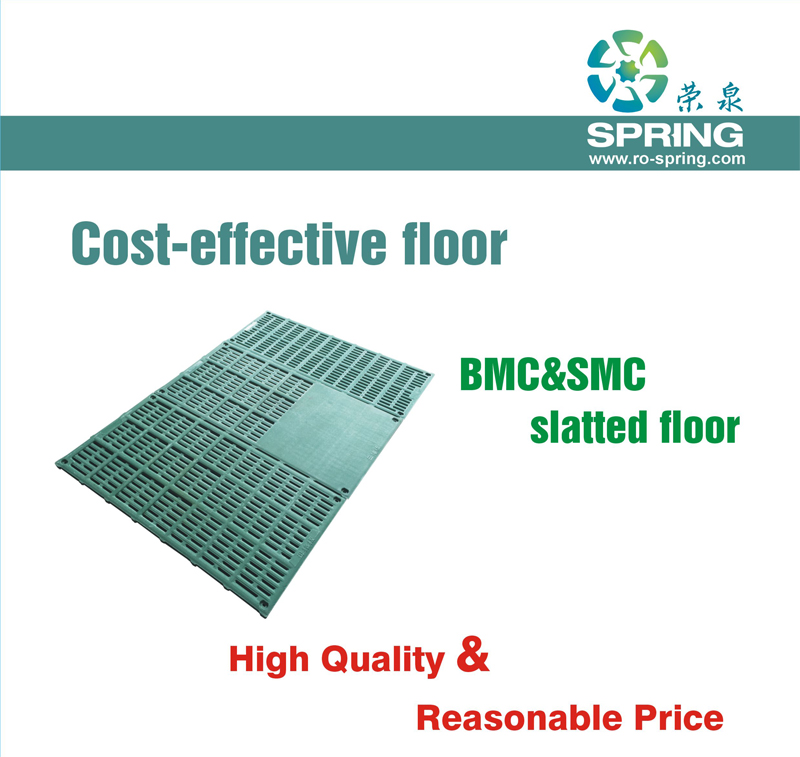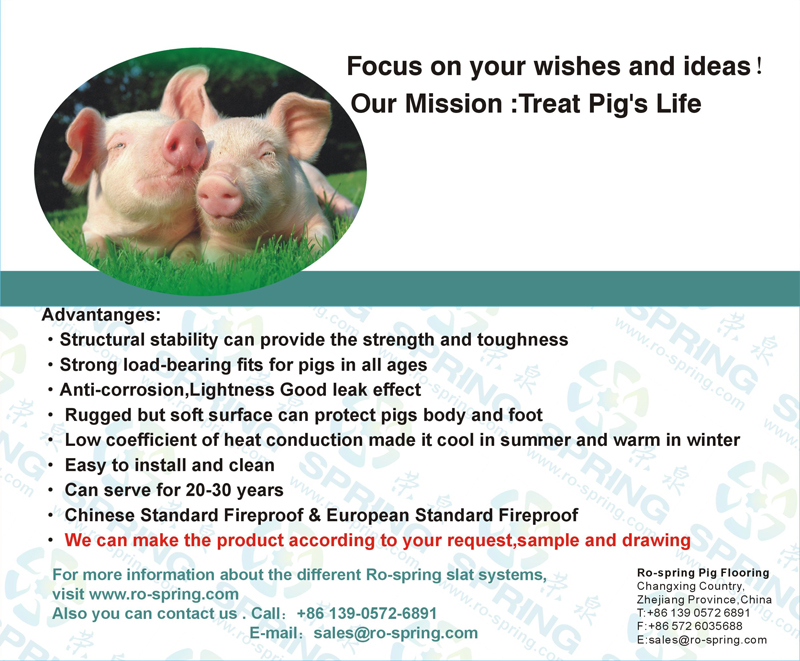 Springfloor weanerfloor.
* Meets the requirements of fire class Bfl-s1;Acid resistance;
* Easy to install;
* Optimal animal comfort;
* Maximum grip for piglets;
* Rounded bars of the slat to prevent joint injuries;
* Excellent manure passage;
* Completely liquid tight;
* Dirt repellent and easy to clean;
* Excellent attenuation of noise and vibration
Ro-spring Company is located in Changxing of Zhejiang Province, close to Shanghai. We are the high-tech enterprises that specialized in developing and manufacturing new composite products, the domestic professional manufacturer of the most superior BMC/SMC composite slatted flooring.
Our company has ability to independently research and development, and possess the leading technology of production of BMC/SMC composite manhole covers, gratings/gully, communication manhole cover, water meter-box and BMC/SMC slatted flooring, enjoy high reputation in the domestic market. We have the excellent fame in the composite industry. Especially we are always the pioneer brand in the composite slatted flooring industry.
From 2004 when the first generation products launched on the market, our company has owned unanimous praise from our customers.For the past 5 years, we have witnessed the vicious price war on the market, Ro-spring company does not involve itself into these bitter price war over cheap quality products. Most of importantly, we have gained ourselves the
reputation of absolutely superior quality products in the market.
We have become the No.1 manufacturer of the BMC composite slatted flooring in China and we have our own image in this industry as the
strongest performer
Ro-spring is able to produce various composite products to meet all customers` request around the whole world. Our products have exported to most of the European countries, U.S., Canada, Latin America, and many Asian countries, which are popular among the customers.